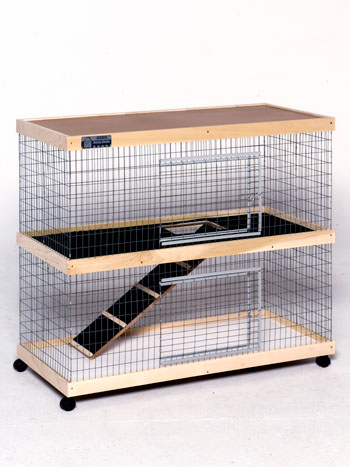 Click to view jumbo image

Click here to see additional pictures for this item.

48 in. Double Level Bunny Abode Condo
WELCOME HOME!
Many pet homes are small and cramped. The Bunny Abode products provide ample space for your pet to relax and play in. Larger than nearly all other products on the market, this home provides eight square feet of living space per level. With a height of 21 inches in each level, there is room to stretch up (or "telescope"). And at up to 48 inches wide and 23 inches deep, there's plenty of room to stretch out and relax. It's like giving your pet their own mansion!

Bunny Abode Condos include many features that make them the perfect housing for litterbox trained house rabbits.

Please read this page that illustrates, in detail, the features of the Bunny Abode Condo line.

This 48 inch Double Level Bunny Abode Condo is the perfect solution for the average size rabbit (3-10 LB), the house rabbit that must spend a portion of his day confined (while you are at work, for instance), or for the smaller rabbit who spends the majority of his time confined to his home, for whatever reason. Well bonded pairs of small to medium sized rabbits will love this home as well.

The Double Level Bunny Abode Condo comes complete all these features:
Furniture-quality, heavy duty casters that make moving easy, whether over hard floors or carpeting
Solid floor with textured plastic bottom
Wire walls (mesh measures 1 inch x 2 inch)
Two 12 inch tall x 16 inch wide doors (one on each level), trimmed in plastic for safety and comfort
Carpeted ramp with Rumble Strips for added traction leading to the second level
Cut-to-fit carpeting laid over the flooring on the second level
Solid top which can easily hold a number of light items such as plants, decorative items, or bunny care supplies
If you would like yours Foster Style to create two separate living spaces, please ask for this in the Comments Field of the order form
Very easy assembly!
This home measures 48 inch wide, 23 inch deep, 43 inch tall, and weighs approximately 70 LB.

** The carpet is now gray, as the green is no longer available! **
This item is Made in the USA!

All items sold separately unless otherwise noted in description above.
Price: $319.95