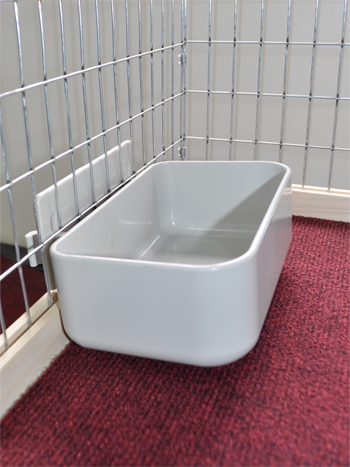 Click to view jumbo image

Click here to see additional pictures for this item.

EZ Crock Mega (48 ounce!)
WOW...finally a HUGE, durable, attractive, easily cleaned bowl that attaches to the bunny's home. No more bunny throwing the bowl down the ramp.

It is a very sizable 48 ounces. The Mega bowl measures a whopping 8 inches wide by five inches front to back, by 2 3/4 inches deep. It should easily hold enough water for a weekend. Any bigger and it could be a bunny bed (well, maybe not)!

These bowls would also work really well as a catch basin beneath any water bottle to catch any water the bunny misses, rather than spilling it all over the bunny home. It even works great on an x-pen!

I love these so much that I am switching all of our bunnies bowls over to these. Holds plenty of bunny salads or water or...if you were to ask the bunnies...they would be for all their bunny treats!
This item is Made in the USA!

All items sold separately unless otherwise noted in description above.
Price: $12.99