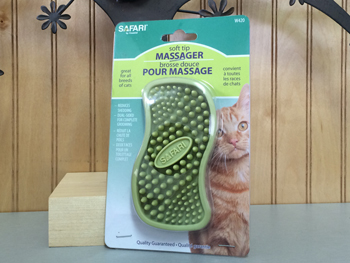 Click to view jumbo image

Click here to see additional pictures for this item.

Curry Brush
Ok, so the package shows a kitten, but it works just as well on bunnies. This one worked particularly well on our bunnies with short hair (ie. not the angoras). One thing we did notice was that it pulled out a lot of the unwanted undercoat in particular. Most of the hair pulls off in a loose 'ball' and you just discard that.

Cleaning the hair out of the soft rubber bristles takes a little bit more work, but the more the hair builds up in the brush, the easier it is to clean.

Then you can just wash the brush in soapy water and let air dry. Voila...clean and happy bunnies as a result.
All items sold separately unless otherwise noted in description above.
Price: $7.59