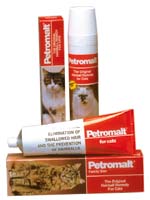 Petromalt Hairball Remedy - Original Formula
Rabbits cannot regurgitate (really!), which means that ingested hair can contribute to health problems if not passed through the system. This popular kitty hairball treatment is also recommended by many people for bunnies. This small, handy tube will last you a long while.

Give a small bit (about the size of a jellybean) once a week when not shedding, and give daily while molting. Oh yeah, it works great for cats too.

Comes in a handy 2 ounce tube and will last a REALLY long time.

Mmmmm....malt flavor!
Active Ingredients: Mineral Oil (10.8%), Petrolatum (32.8%)
Other Ingredients: Acacia Gum, Acidified Calcium Sulfate, Barley Malt Syrup, Caramel, Glycerin, Potassium Sorbate, Sodium Benzoate, Thiamine HCl, Water.

As with ALL small animal supplements, if your rabbit (or cat) has stopped eating you really need to get them to a vet for a checkup and diagnosis before administering any supplements!

Made in USA! Yay!
This item is Made in the USA!

All items sold separately unless otherwise noted in description above.
Price: $7.45