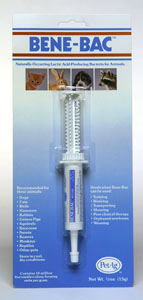 Bene-Bac Pet Gel
Bunnies have complex digestive systems that can be upset by illness, stress, or improper diet. Bene-Bac helps to maintain or reestablish the natural and healthy gut flora that rabbits need for a healthy digestive system.

This probiotic is for oral administration and should be used whenever antibiotics are administered (as they can kill beneficial gut flora), or to control an imbalance caused by a diet too high in sugar.

This is not needed as a standard part of a rabbit's diet, but it is helpful to have some of this on hand just in case. Store in a cool dark place (refrigeration is not necessary). Contains L. acidophilus, L. plantarum, E. faecium, and L. casei.

This item now comes in a 15 gram (.53 ounce) feeding syringe to easily administer to your bunnies. This will last a long time as "a little dab will do 'ya" Contains 20 million live (viable) colony forming units per gram. That's 300 million per tube!

Not carded, just individual tubes.


Ingredients:
Sunflower oil, silicon dioxide, sugar, fructooligosaccharide, dried Lactobacillus casei fermentation product, dried Lactobacillus fermentum fermentation product, dried Lactobacillus acidophilus fermentation product, dried Lactobacillus plantarum fermentation product, dried Enterococcus faecium fermentation product, dried Bifidobacterium bifidum fermentation product, dried Pediococcus acidilactici fermentation product, artificial color.
This item is Made in the USA!

All items sold separately unless otherwise noted in description above.
Price: $9.69